Daddy is loving
* going out with the wifey.
* the beautiful girl's new teeth.
* watching Falling Skies.
* the cats having nightly spider hunts.
* the football season starting.
Mummy is loving
* making the most of time together in the sunshine.
* looking at family photos.
* date nights with her best friend.
* that the beautiful girl really snuggles in for cuddles now.
* going on a mummy-son date.
The beautiful boy is loving
* reading books all. the. time.
* playing with puzzle games on mummy's iPad.
* going to the supermarket.
* his first trip to the cinema.
* 'swimming' in nanny's hot tub.
The beautiful girl is loving
* standing up all by herself.
* when her big brother comes in her cot with her.
* chatting non stop.
* making big sparkly eyes at daddy.
* riding on the rocking horse.
It's been a pretty quiet month for us
which has been lovely.
However we did have time to squeeze in a professional photoshoot
and I can't wait to share the photos with you all.
Family photos have become a bit of an obsession for me this year
and I'm so incredibly proud and happy about the collection we have now.
The ones we have taken this month are really special to me.
Last August, when we were in the last stages of life as a three,
we took a selection of photos of us together at a beautiful location near us
(you can see the post and photos
here
)
and this month we went back to the same place
and charted the changes our family has seen in a year
by taking some new family portraits.
it will be carrying on in to next year
so you can still get your year's worth of photos.
I think a lot of the people who are taking part
are finding it so valuable that they plan on going beyond the year marker that was originally planned.
If you join us now, I'm pretty sure you'll get addicted to family photos too.
This week I'm sending you to visit Chloe and her boys Sam, Arlo and Rory
I know that she has been recreating old photos too this month
(there must be some nostalgia floating around in the air this time of year)
and they are sure to be beautiful.
If you would like me to tweet your link up out on Twitter
then remember to add the Me and Mine badge to your post.
I will tweet about everyone who is showing off the badge.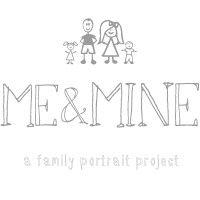 I've shown you me and mine,
now we want to see you and yours . . .