Daddy is loving
* feeling the baby kick for the first time.
* heading 'up north' for a few days.
* seeing the beautiful girl's face on the In The Night Garden ride in CBeebies Land.
* finding out Flump's gender.
* taking the beautiful boy on the big flumes at Splash Landings.
Mummy is loving
* seeing Flump again at our 20 week scan and finding out the gender (big reveal coming soon!)
* sunshiny days at the seaside, RHS gardens and the bluebell woods.
* maternity jeans... how did I cope without them in previous pregnancies?
* a lovely mini break to Alton Towers with our besties.
* finally feeling some little baby wiggles.
The beautiful boy is loving
* absolutely anything to do with space.
* the Octonauts ride at Alton Towers.
* white chocolate spread sandwiches.
* watching Miles From Tomorrow on Disney Jr.
* reading his books from preschool (and everything else for that matter.)
The beautiful girl is loving
* reading BabyLit's Pride and Prejudice over and over again.
* wearing flower head bands and acting like a hippy.
* stealing Mummy's chocolate pillows at breakfast time.
* the In The Night Garden boat ride.
* eating strawberries.
And just like that, another month flew by. Scary how fast that seems to be happening this year! I feel like "happy" is just beaming out of our family photos this month... and that seems really apt. We seem to be in such a happy kind of place at the moment and it makes me want to freeze time and keep it just like this forever. The children are best friends, they are so easy (most of the time), which means that Rich and I can step back a bit more and have more little moments for us; and it really does feel like our days are filled with lots of laughter and smiles. And we still have the summer ahead of us to pack full of fun adventures together. Life is good, and I am so so grateful.
This month I am sending you to visit the lovely Katie to check out her Me and Mine photos over at
Mummy Daddy Me
. We actually went on our little trip to Alton Towers (the one we've all mentioned in our highlights from this month) with her and her family, they are our absolute besties and I can promise you that they are all as lovely as they appear in Katie's photos.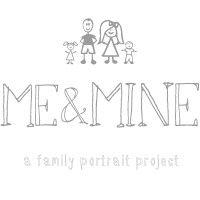 A whopping 66 people linked up with us for
Me and Mine
last month, and I honestly can't tell you have happy and proud it makes me to see so many other families embracing the act of getting together in front of the camera. I know I've learned a lot from two and half years of doing these monthly photos, and that however much work they sometimes feel like to get, we always treasure the results and the fact that we put in that effort. So thank-you, and well done, and I hope you love your photos as much as we love ours.